Wright's Tree Farm Fire – Fire Marshall says Building is a "Total Loss"
This article was published on: 05/19/16 2:54 PM by Mike Minarsky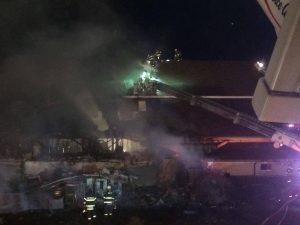 Last night a fire started at popular wedding destination, Wright's Tree Farm in Canterbury, wielding the facility building a "Total Loss" according to Fire Marshall Paul Yellen.  8 Departments responded to the blaze which is being reported as starting in the kitchen.  One person was transported to the hospital via ambulance for smoke inhalation.
The owners of the property issued a statement on their Facebook page, it reads…
"To all my customers and friends who commented on my post this is Curt. Thank you all for the great support. As you can imagine I am devastated at the tragedy that happened today and will do everything in my power to make things right. I will guarantee that wrights mill farm will be back looking like the old wrights just newer. You have my word on that. It may take some time but I willllllll rebuild. Love you all."
The fire was said to be contained just after midnight.