Woman Rolls Car On Green Hollow In Single Vehicle Accident
This article was published on: 10/23/19 5:28 PM by Mike Minarsky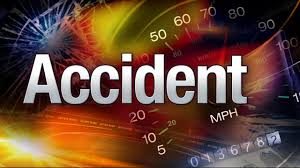 On October 22, 2019 at approximately 7:42 P.M., the Plainfield Police Department along with members of Atwood Hose Fire Department and American Legion Ambulance responded to a report of a one car motor vehicle accident that was reported via 911. The accident occurred on Green Hollow Road near the Killingly line causing the road to be shut down for a short period of time.
It was reported that the vehicle, a 2007 black Chevy Cobalt was on its roof and that register owner and operator, 23 year old Tabitha Federer was out of the vehicle but, was reporting that she was hurt. It was determined Federer was traveling southbound on Green Hollow Road when she lost control negotiating a curve in the roadway, causing her to go off the roadway, strike the stonewall, and causing the vehicle to roll over onto its roof facing northbound in the southbound travel lane.
Federer was transported by American Legion Ambulance to Day Kimball Hospital for the injuries sustained.
Federer was issued a warning for Failure to Maintain proper Lane.
This case remains under investigation.