Woman Leaves Scene Of Car vs Pole Accident, Gets Arrested For Outstanding Warrants
This article was published on: 12/4/18 11:19 PM by Mike Minarsky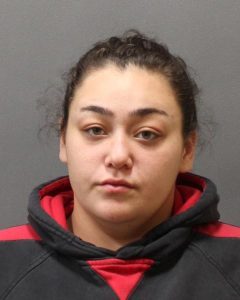 On December 3, 2018, at approximately 12:20PM, Officers from the Plainfield Police Department, along with the Moosup Fire Department and American Legion Ambulance responded to a crash involving one vehicle vs utility pole in the area of River Street Moosup, CT.
22 year old Elba P. Marcotte was traveling southbound on River Street in a 2013 Chevy Equinox, when the vehicle drove off the travel portion of the road and struck a utility pole. Marcotte got out of the vehicles and fled the scene of the crash. Marcotte was found approximately two blocks away from the scene of the crash, in the area of Pond Street and Talbot Avenue by a Sergeant of the Plainfield Police Department who was working a Construction detail on South Main Street Moosup.
Officers discovered that Marcotte had 3 active arrest warrants for failure to appear. Marcotte who does not holds a valid operator's license, stated that she was traveling southbound on River Street, Moosup, when had a seizure and blacked out causing her vehicle to drive off the travel portion of the road. Marcotte was transported to the Plainfield Backus Emergency Care for possible injuries and later released back into police custody.
Marcotte was subsequently processed and charged with Evading Responsibility, Failure to Maintain Proper Lane, Operating Motor Vehicle without a License, (2) counts of Failure to Appear 1st Degree and (1) count of Failure to Appear 2nd Degree. Marcotte was held on a combined $210,500 bond pending her arraignment at Danielson Superior Court on December 4, 2018.  The outstanding warrants that the re-arrest was ordered for was for 2nd degree robbery as well as charges for Breach of peace and criminal mischief from July 2017.
This crash remains under investigation.