Windham Man Transported to Hartford Hospital After Suffering Gunshot Wound
This article was published on: 10/17/18 4:36 PM by Mike Minarsky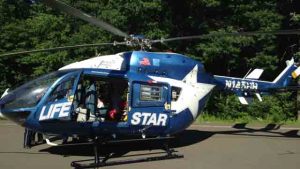 On Tuesday October 16, 2018 at approximately 8:31 P.M., Troopers from Troop K-Colchester responded to the area of Bricktop Road, in the town of Windham for an incident. Troopers arrived on scene and located a single victim who sustained injuries consistent with a gunshot wound. Based on information recently obtained, investigator discovered that the victim sustained both a gunshot wound and a stab wound.
The victim was transported to Windham Hospital via ambulance and subsequently transported to Hartford Hospital via LifeStar. The victim is currently in stable condition. Troopers are continuing to question witnesses, gather evidence on scene and actively searching for the suspect.
Any person with information is asked to contact Troop K at 860-465-5400.