Who's Responsible?
This article was published on: 02/21/16 4:04 PM by Curt
–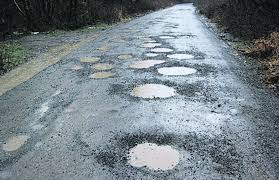 Potholes are a sign of Spring, but they can do damage to your car, and this could be a bad year for potholes. Potholes can cause a lot of damage to your car, and accounts for nearly $3 billion in damages every year. Potholes occur as a result of the thawing, freezing and thawing again cycle. As a result of the amount of potholes spread out across the towns, they may have a problem locating, dealing with them, and repairing them in a timely manner.
Potholes can lead to tire punctures and wheel damage, even suspension damage. There are steps you can take to prevent pothole related problems when traveling the roads.
-Always look ahead while driving and scan the roads for any damages which are in your direct path.
-Slow down. If you can't avoid a pothole you will do less damage to your car if you are going slower. Taking your foot off the brake right before you hit a pothole will also reduce damage to your vehicle.
-Be careful of puddles. They can hide deep potholes.
If you are unfortunate enough to hit a pothole and believe you have done damage to your vehicle,
– Check your alignment. Hitting a pothole can affect steering and your car can start pulling to one side.
– Listen for noises or vibrations that weren't there before. Those can be a sign of damage to your wheels, tires or suspension.
– Take a good look at your tires. Make sure they don't have any tears or other damage. Don't forget to check the tire pressure.
If you have seen, or know the location of a pothole, your town wants to know about it.
The Town of Griswold Public Works can be reached through The First Selectman's Office, 860-376-7060. The Town of Plainfield Highway Department can be reached through the Plainfield Town Hall, 860-230-2000 The Town of Killingly Highway Department can be reached at 860-779-5385
If you hit a pothole on a state road and it damages your car you may be able to file a claim against the Connecticut Department of Transportation. Use this link to file a claim:
http://www.ct.gov/dot/cwp/view.asp?a=1380&Q=270634