Wauregan Man Arrested After Being Sniffed Out By K-9
This article was published on: 09/5/20 11:28 AM by Mike Minarsky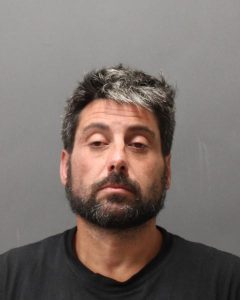 On September 5, 2020 at approximately 1:19 AM, a member of the Plainfield Police Department conducted a motor vehicle stop of a 2004 black Nissan Maxima on East Main Street in Central Village due to the vehicle failing to drive right along with having a non-illuminated registration plate. The operator of the vehicle was subsequently identified as  37 year old Devon Holt of Wauregan. The front seat passenger was identified as 39 year old Brian Maheu also from Wauregan. During the stop, Officers became suspicious that Holt and Maheu were in possession of narcotics and subsequently requested that a narcotics detection K-9 respond to the scene.
A member of the Willimantic Police Department and his narcotics detection K-9 later responded to the scene and conducted a sniff Holt's vehicle. The K-9 alerted to the presence of narcotics, at which point Holt and Maheu were systematically asked to exit the vehicle. A search of Maheu's person revealed he was in possession of crack cocaine, marijuana, and drug paraphernalia. Officers from the Plainfield Police Department subsequently located a substantial amount of crack cocaine, $980.00 in cash, and additional drug paraphernalia inside the vehicle in the area in which Maheu was sitting.  This is the first run in with police Maheu has had in about 5 years. 
Previously, Maheu had been arrested for assault and violation of probation stemming back to 2013.
Devon Holt was subsequently issued an Infraction for motor multiple motor vehicle violations. Brian Maheu was placed under arrest and charged with Possession of Narcotics, Possession of Narcotics with Intent to Sell, Possession of Drug Paraphernalia, and Possession of Less than ½ Ounce of Marijuana. Maheu was subsequently released on a $25,000.00 bond and is scheduled to appear at the Danielson Superior Court, September 14, 2020.