Troop E No Nuisance Operation Nets 8 Arrests in Jewett City and Baltic
This article was published on: 10/17/16 1:34 AM by Mike Minarsky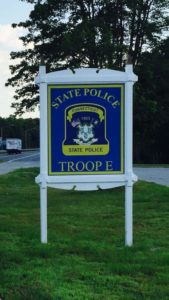 On 10/14/2016 from 12pm to 6 pm, Troopers out of Troop E, Montville, the "Narcotics Suppression Team", the Jewett City, Preston, Lisbon, Sprauge Resident Troopers and members of the Troop D QLTF conducted a Zero Tolerance Operation which encompassed the Boroughs of Jewett City and Baltic. Troopers broke up into teams of two and were assigned a high complaint area to conduct foot patrols. The focus of the operation was to reduce nuisance/street crimes such as loitering, drug use/dealing, disturbances, reckless use of the roadways by pedestrians and others. As a result of this initiative, 8 arrests were made, 37 infractions were issued and 10 warnings were issued. 4 weapons, 2 shotgun shells, 4 pieces of drug paraphernalia and 388 grams of marijuana were also seized.
Arrests: Case Number Name/ DOB Charge(s) Bond
1600570026 Kevin Schimelfank/ 07/31/87 14-215- OP Under Suspension PTA
1600570105 Christopher Connell/ 01/09/91 21a-279a(1st)- Poss. Of Controlled Substance
1600570462 Dorin Ladson/ 01/18/65 53a-32- Violation of Probation $10,000 Cash
1600570492 Dorin Ladson/ 01/18/65 53a-173- Failure to Appear 2nd $10,000 Cash
1600569897 Douglas Plantier/ 09/08/81 53a-173- Failure to Appear 2nd $5,000 Cash
1600570037 Dustin Robillard/ 09/25/88 21a-267- Poss. Drug Paraphernalia $500 N/S
1600570037 Travis LaValle/ 07/11/91 21a-279c- Poss. of Controlled Substance $10,000 N/S 21a-277b- Poss. With Intent to Sell 21a-279b- Poss. Over 4oz Marijuana 29-38- Weapons in a Motor Vehicle
1600570181 Michael Foisey/ 03/08/1994 21a-267(d)(1)- Poss. Drug Paraphernalia
The infraction tickets and warnings were issued for various offenses to include simple trespass, loitering, reckless use of the roadway. This is the first time; Troop E Troopers have conducted a Zero Tolerance Operation. This operation was prompted after Troopers received numerous complaints from various business owners and citizens within the borough of Jewett City. Troopers plan on conducting similar operations throughout the fall in an effort to make both areas a safer and friendlier community for business owners, patrons, citizens and visitors to the town.
WHAT IS THE TROOP E NARCOTICS SUPPRESSION TEAM (NST)?
NST is versatile team to combat illegal narcotic activity and related crimes in the Jewett City area. The team was founded over a year ago in response to the overwhelming heroin epidemic in the area. This highly motivated team has made significant strides in stopping the flow of heroin into Jewett City as well as the surrounding towns. NST is committed to combating drug activity in the Greater Jewett City Area and anyone with information regarding the illegal sale of narcotics is encouraged to call the Troop E NST at 860-848-6500.
Great job by all Troopers from Troop E on this successful operation. Troop D QLTF was honored to assist.