**TROOP D, PLAINFIELD PD, PUTNAM PD, DANIELSON ADULT PROBATION AND PAROLE TEAM UP AND PARTICIPATE IN A STATEWIDE WARRANT SWEEP OPERATION**
This article was published on: 07/19/18 1:31 AM by Mike Minarsky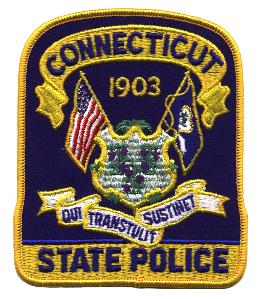 Today (July 18, 2018), after several months of planning, over 90 municipal, state, and federal law enforcement agencies in Connecticut executed a "Statewide Warrant Sweep Operation". All arrest warrants served were for State of Connecticut charges and pertain to crimes in violation of Connecticut General Statutes. The operation commenced pre-dawn with each participating agency conducting sweeps for wanted persons within their State Police developed intelligence packages. The State Police provided updated intelligence on these wanted persons in order to conduct safe, timely, and accurate apprehensions. All warrants served in relation to this operation will be referred to a local superior court associated to their jurisdiction.
The targets of this operation were individuals who are currently wanted on felony and misdemeanor outstanding arrest warrants incurred during official state investigations. In total, this operation netted the arrest of numerous wanted persons who were fugitives from justice. Information concerning the identification of each arrested party, to include specific charges, will be available through the local arresting agency or State Police barracks.
This operation was conducted with the intent of ensuring a cost effective method of serving outstanding warrants by utilizing a unified mass operation. This operation is a stellar example of collaboration to uphold the judicial system which demands fugitives from justice are presented with an opportunity to a speedy and fair trial. Likewise, we have capitalized on this opportunity to enhance community safety by removing proven and potentially dangerous fugitives from the streets.
Furthermore, this operation shows the commitment and the spirit of cooperation amongst the law the enforcement community which will no doubt continue after the conclusion of this operation. This operation illustrates the necessity of working together, and by doing so, can make Connecticut a safer state for all.
The following individuals were arrested by Troop D QLTF, Killingly Resident Troopers, Brooklyn Resident Troopers, Plainfield PD, Putnam PD, Danielson Adult Probation and Parole (Norwich Office):
Donald Jorgensen (DOB: 11/30/1985) of #32 Crooked Trail Rd., Woodstock – (2) counts of Violation of Probation.
Jason Andrews (DOB: 5/2/83) of #18 David Ave, Griswold – Two counts of Violation of Probation and one count of failure to Appear in the First Degree.
Robert Feuti (DOB: 10/11/94) of #86 Hill Road, Thompson – Assault 3rd, Unlawful Restraint 2nd, Criminal Mischief 2nd.
Adam Bachand (DOB 01/23/83) of #5 Floral Ave., Thompson – Failure to Respond to an Infraction.
Kevin McKay (DOB: 01/11/1985) of #117 Thompson Rd., Thompson – Disorderly Conduct.
Jess Mechlin (DOB: 5/1/77) of #40 Prospect Ave., Killingly – Violation of Probation.
Cole Jussaume (DOB: 4/29/98) of #33 Vezina Drive, Killingly. Sex Assault Second Degree and Risk of Injury to a Minor.
Michael Mancini (DOB: 07/04/73) of #7 Bartlett Meadow, Killingly – Criminal Mischief.
Edward Chrabaszcz (DOB: 12/27/72) of #80 Woodstock Avenue, Putnam – Violation of Probation.
Dawn Dubois (DOB: 3/6/75) of # 8 Litchfield Avenue, Killingly – Violation of Probation.
IIdiko Corello (DOB: 10/2/1969) #51 Reynolds Street, Danielson – Failure to Appear 2nd Degree.
Jennifer Vose (DOB: 08/27/1976) of #54 Stearns Street, Danielson – Larceny 5th and Illegal use of Credit Card.
James Drane (DOB: 2/15/1994) of #436 Stetson Rd., Brooklyn – Burglary 3rd Degree and Larceny 4th.
Jamie Chatelle (DOB: 6/25/80) of #23 Daniel Street, Putnam – Violation of Probation.
Eric Langley (DOB 6/28/1984) of #64 Broad Street, Danielson – Violation of Probation.
Source: Csp Press Release, QLTF TROOP D FACEBOOK PAGE