Thursday Not the Night For GHS Boys and Girls Basketball
This article was published on: 02/21/20 11:19 PM by Mike Minarsky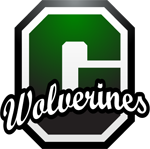 Both the Griswold Boys and Girls basketball teams took losses on Thursday night.  The boys in a regular season game and the girls got ousted from the ECC tournament quarterfinals.
The boys team had been performing well, winning 7 out of their last 8 with the only loss being to St. Bernard on Valentines Day, 57-43.
The first quarter was not that kind to the Wolverine  boys only scoring 6 points in the first.  Chris Roddy and CJ Mattson took over in the 2nd quarter scoring 15 of the 20 points in the 8 minute span.  Roddy had a 3-point basket and 3 buckets from the field and Mattson sinking a couple of 3's.  Griswold crept back into the game only down 4 after the first half, 30-26.
Typical 3rd quarter for the Wolverines coming out slow out of the locker room only scoring 9 led by a Mattson 3 pointer and only 8 points in the 4th.  The Wolverines only got to the free stripe for 2 shots in the 4th.  Roddy led Griswold with 16.  Griswold loses to Ledyard, 55-43.  The loss drops them to 13-6 on the season as well as dropping from #5 to #7 in the state according to the DIV IV CIAC
Griswold has one more regular season game before the ECC Championships, Monday evening at Plainfield (9-9).
---
The lady wolverines also played on Thursday and didn't have much luck either during their ECC quarterfinal matchup.  The lady whippets of Windham went on a 9-1 in the first to take the lead 17-7.  Not much more scoring in the 2nd as the girls only put up 9 in the 2nd.  Going into the half Windham led 26-15.
Only 4 Wolverines put the ball in the bucket for GHS.  Lindsey Van Lanen led Griswold with 10, Mandy Brehler 8, Hailey Eliasson 7, and Audrey Giroux 5.  Final Score, Windham 44 Griswold 30.  Next stop for the ladies are the States.