Three Suspects Arrested After Tractor Supply Burglary in Colchester
This article was published on: 09/30/19 6:06 PM by Mike Minarsky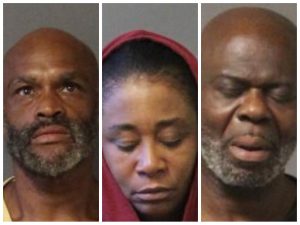 On Sunday, September 29, 2019, at approximately 2:03 PM, Troop K Troopers were dispatched to the Tractor Supply Store in Colchester for a report of an alarm that was going off. When the Troopers arrivedm they observed a suspicious vehicle at the entrance of the parking lot. At the rear of the store, Troopers also saw a Uhaul box truck flee from the scene. Troopers followed the UHaul for a short period of time. The occupants of the Uhaul then exited the truck while it was still moving. A K9 tracked one of the three suspects, 51 year old Robert Gamble of Bloomfield, where he was taken back to Troop K and was charged with burglary, 2nd degree larceny, interferring, and criminal mischief. Gamble was held on $50,000 bond and is scheduled to appear in Norwich Superior Court on October 10, 2019.
The occupants of the suspicious vehicle which was in front of Tractor Supply were also in the Uhaul. 54 Year old Gregory Mathis of Windsor and 44 year oldTongie Johnson of Hartford were also located and arrested. Mathis and Johnson were held on $25,000 bond and also have court dates of October 10, 2019
Both Johnson and Mathis have pending larceny cases in Manchester. Gamble has only one blemish on his record with a breach of peace charge stemming back from 2011.