Taftville Man Arrested After Warrant Was Issued For Child Abuse
This article was published on: 03/13/19 6:55 PM by Mike Minarsky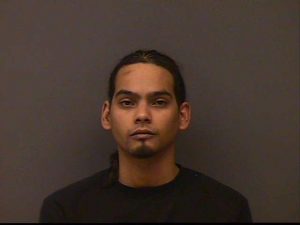 On March 9th, 2019, members of the Norwich Police Department Detective Division located and arrested 27 year old Edward T. Quinones, Jr., of Taftville. Quinones was arrested and charged him with Risk of Injury to a Minor, Second degree assault and Cruelty to Persons.
In the early morning hours of September 17th, 2018, the Norwich Police Department received a notification from the Connecticut Department of Children and Families- CareLine (D.C.F.) reporting the possible physical abuse of a three (3) year old child. A Pequot Medical Center Emergency Room Physician contacted the CareLine and reported a three year old male victim had been brought to their facility, hours earlier, by his mother for the treatment of multiple bruising and other injuries at varying stages of healing about his body. The victim was subsequently transferred to Yale-New Haven
Hospital for further treatment and consultation with the Hospital's child abuse Detection, Admission, Reporting and Treatment (D.A.R.T.) Team. 
The Norwich Police Department Detective Division was notified and assumed responsibility for this lengthy and extensive investigation. Detective Ryan Kelsey #281 worked in collaboration with D.C.F. and the D.A.R.T. Team and it was learned that the victim had been staying with and cared for by Quinones and his girlfriend, Jamie Carr, age 29, also of Taftville. The victim's mother had paid both Quinones and Carr to care for the victim while she was working from Friday evening September 14th to Sunday evening September 16th, 2018. During this weekend time period, the victim sustained serious injuries to his head, face, arms, torso, genitals and legs. After conducting multiple interviews, searches of electronic evidence, as well as medical records reviews and consultations, Detective Kelsey authored an arrest warrant for Quinones which was recently approved and issued.
After being placed under arrest by Detectives, Quinones was processed at Norwich Police Department  Headquarters and he was subsequently released after posting a $50,000.00 (court set) surety bond. He was given a court date of March 21, 2019 at Norwich Superior Court.
No further arrests are anticipated at this time. The victim's name and family information will not be released in accordance with.