Suv Slams Sedan At Traffic Light in Lisbon, One Arrested
This article was published on: 08/19/17 6:56 PM by Mike Minarsky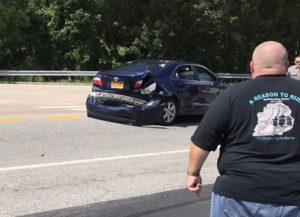 At approximately 2:30 Saturday afternoon a 2 car motor vehicle accident occurred when a white Nissan Murano didn't slow down at a traffic light just outside the Green Onion Restaurant in Lisbon and hit a 2009 Toyota Camry.
2 State Police troopers responded to the call and administered a field sobriety test to the unidentified driver of the Nissan Murano. The driver was taken into custody when he wasn't able to take one step in the test.  Troopers also had the Nissan towed from the scene.
The unidentified Male in the Camry was seen holding his beck but there were no transports for medical assistance.