Superbowl Sunday: A Message from CT State Police
This article was published on: 02/5/16 8:32 PM by Curt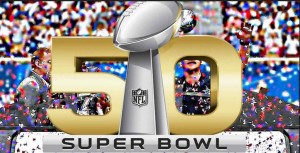 Connecticut State Troopers across the state prepare for Super Bowl Sunday, which is one of the biggest and most entertaining national sporting events in the United States.
On Sunday, February 7, 2016, friends and families will gather to watch the "big game", and to enjoy the festivities surrounding the game.  Parties and gatherings can make Super Bowl Sunday one of the year's most dangerous days on the roads and highways of our state due to impaired driving-related accidents. "The busy holiday season is past, but this game is an 'unofficial' holiday in the U.S. We urge all Connecticut residents to proceed with caution as they celebrate with friends and family" said Colonel Brian Meraviglia.
Although kickoff is not until 6:30 p.m., Super Bowl Sunday tends to be an all-day celebration.  Due to the nature of this sporting event, the Connecticut State Police offer some suggestions to keep everyone safe as they celebrate the game:
Travel the speed limit, always use signals when turning or changing lanes, wear your seatbelt, and stay off your cell phone.  Be alert to what OTHER motorists are doing, be prepared to stop, or change lanes.  Act responsibly by designating a sober, non-drinking driver before the game even starts.  Remember, friends never let friends drive impaired!  Be prepared to call a taxi, or find a sober driver for that friend.  "We can all be on the winning team on Super Bowl Sunday. Follow the rules of the road, drive defensively, and lookout for erratic, distracted and impaired operators" added Department of Emergency Services and Public Protection Commissioner Dr. Dora B. Schriro.
Troopers will be attentive to all roads and highways across the state for the possibility of drivers operating impaired, before and after the game.  As always, Troopers will enforce all motor vehicle laws.
During Super Bowl Sunday 2015, Troopers arrested 12 drivers for DUI, issued 122 tickets for speeding and 301 tickets for hazardous moving violations (to include following too close, distracted driving, cell phones, etc.).
In Connecticut, FOOTBALL POOLS are legal as long as all of the money taken in for the pool is given back to the winners participating in the pool.  No percentage or cut can be taken by the person organizing the pool for his/her time and/or expense of running the pool.
   NOTE: NO BETTING POOLS OF ANY KIND CAN BE RUN IN ANY ESTABLISHMENT OR BAR SELLING ALCOHOL.