Sterling Man Rolls Car After Sideswiping Parked Car
This article was published on: 05/5/20 7:26 AM by Mike Minarsky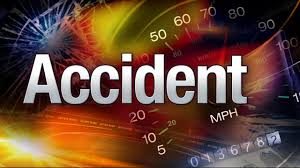 On Tuesday May 5, 2020 at approximately 4:52 A.M., members of the Plainfield Police Department along with the Moosup Fire Department and American Legion Ambulance responded to a collision involving a parked vehicle in the area of 443 North Main Street in the Moosup village of Plainfield, Connecticut.
Through investigation, it was determined that 44 year old Joseph Devolve, of Sterling, was traveling westbound on North Main Street in his 2004 Volvo XC70 when he sideswiped an unoccupied 2006 Ford F-350 pickup truck which was parked along the shoulder of the westbound lane. After striking the parked vehicle, Devolve's vehicle overturned coming to a rest on it's roof in the middle of the roadway.
Devolve was transported to the Plainfield Backus Emergency Room to be treated for possible minor injuries.
This crash remains under investigation.