Statewide Narcotics Task Force- Two arrests for Possession of Fentanyl and Heroin
This article was published on: 05/5/17 7:38 PM by Mike Minarsky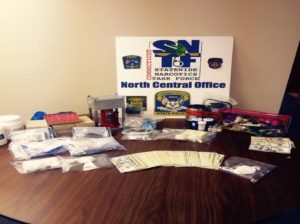 "On 05/04/17 at 10:00 p.m., Members of the Connecticut State Police Statewide Narcotics Task Force North Central Office, whose members are comprised of the Connecticut State Police, West Hartford Police, East Windsor Police, and the Hartford Police Department, conducted a heroin/fentanyl narcotics operation at 93 Caya Ave in West Hartford.
This investigation was worked in conjunction with West Hartford Police Patrol Division and the West Hartford Police Special Investigation Division and was the culmination of several months' long investigation into the trafficking of heroin/fentanyl.
The target in this investigation, Kevin Crabb (DOB: 01/14/81), and his co-conspirator Renee Cottrill (DOB: 07/13/82) were identified through this investigation as the source of supply of heroin/fentanyl in the greater Hartford area related to numerous overdoses.
Crabb and Cottrill were taken into custody subsequent to a motor vehicle stop in Hartford during which they were found in possession of 51 grams of fentanyl, 4 grams of marijuana, 4 grams of cocaine, 2 grams of heroin and $3,040.00 in cash.
Detectives then executed a search warrant on their residence located at 93 Caya Ave and an additional 714 grams of fentanyl, 59 grams of raw heroin, 32 grams of cocaine, $1,200.00 in cash, numerous prescription pills, steroids, scale, packaging material and a kilo press for packaging kilogram amounts of narcotics, were located.
Crabb and Cottrill were transported to Troop H where they were processed on the charges of Possession of Narcotics, Possession With Intent To Sell Narcotics, Possession of Drug Paraphernalia, Operating a Drug Factory and Risk of Injury to a Child and each held on $250,000.00 surety bonds to be presented at GA #14 in Hartford on 05/05/2017."
Source: CT State Police FB page