Statewide Narcotics Task Force Seize Fentanyl following Hartford Search Warrant
This article was published on: 08/30/18 9:13 PM by Mike Minarsky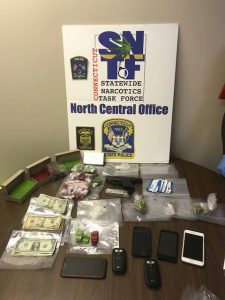 On August 30, 2018 at approximately 6:00 a.m., detectives assigned to the Connecticut State Police Statewide Narcotics Task Force, the Hartford Police Vice and Narcotics Unit, the DEA Hartford Office and the Hartford Police Emergency Response Team served a Search and Seizure warrant at 54 Alden Street, 1st Floor in Hartford CT.
The search warrant was part of an investigation into the distribution of fentanyl in and around the greater Hartford area.
One subject of this investigation was identified as Leonardo Vazquez (age 27), of Hartford, who was found to be on parole. Vazquez was subsequently remanded back into CT Department of Corrections custody. Narcotics and firearms charges are pending for Vazquez.
As a result of the search warrant, detectives seized a large amount of fentanyl packaged for sale, crack cocaine, marijuana, numerous items related to narcotics sales and packaging, and one 9mm handgun.
A second subject of this investigation, Danielle Cusano (age 28) of 54 Alden St., Hartford, was taken into custody and transported to Troop H-Hartford where she was charged with Sale of One Ounce or More of Heroin, Possession of Controlled Substance or Cannabis, Illegal Possession of Large Capacity Magazine and Risk of Injury to a Child. Cusano was released after posting a $50,000 bond and scheduled to appear at Hartford Superior Court on September 13, 2018.
Source:  Ct State Police Facebook Page