Statewide Narcotics Task Force Score Big Drug Bust
This article was published on: 11/18/18 4:50 AM by Mike Minarsky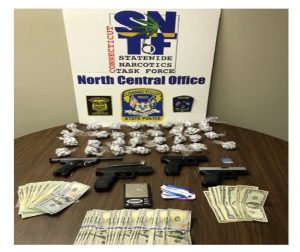 On 11/14/18 the Statewide Narcotics Task Force North Central field office, along with Hartford Emergency Response Team, executed a search warrant at 21 Kibbe Street in Hartford.
The search warrant was the result of a lengthy investigation into the distribution of heroin, fentanyl, and crack cocaine throughout the greater Hartford area. Detectives conducted covert surveillance and several controlled purchases of narcotics which resulted in the issuance of the search warrant for the targets residence. As a result of the search, detectives located and seized 3200 glassine bags (772 grams) of heroin/fentanyl, 1 gram of crack cocaine, 1 gram of crystal meth, 7 suboxone strips, one loaded .22 caliber Luger, 3 facsimile firearms, $849.00 in US currency, a scale and packaging materials. The target of this investigation, Jorge Burgos (DOB: 08/11/1981) was located inside the residence, along with his live-in girlfriend, Jarelys Rodriguez (DOB:9/4/1985) and two juveniles ages 5 and 11 (DCF was also asked to be on-scene for the two minor children under the Drug Endangered Child Protocol laws to keep children safe.)
Burgos was processed and charged with Firearms violations, numerous narcotics violations, and risk of injury to a minor. Rodriguez was charged with two counts of risk of injury to a minor, and was released on a $50,000.00 non-surety bond and given a court date of 11/29/18. Burgos was held on a $250,000.00 cash/surety bond.