State Troopers Offer Reminder After Cruiser Gets Struck
This article was published on: 11/25/17 8:02 PM by Mike Minarsky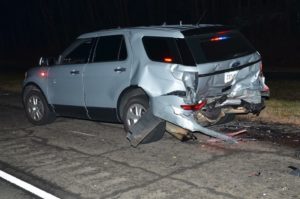 As we continue to make our way through the holiday weekend, your Connecticut State Troopers have a reminder for you…..Don't Drink and Drive!!!
This morning at approximately 1:30 a.m., troopers from Troop H – Hartford and the Crash Analysis and Reconstruction Squad (CARS) were investigating a fatal crash on the I-91 northbound exit 27 on-ramp in Cromwell after a Hyundai veered off the highway, traveled across ramp and stuck trees off the right shoulder. The male operator from Wethersfield was pronounced deceased.
Later in the morning, at approximately 4:56 a.m., while troopers were investigating the fatal crash on the I-91 northbound exit 27 on-ramp, the operator of an Acura drove around the state police cruisers and DOT vehicles, that were being used to close the right lane and on-ramp, and struck the rear end of an unoccupied state police SUV. No troopers or DOT personnel were injured. The cruisers and DOT vehicles all had emergency lights activated and the lane and ramp closure were marked.
The 29 year old male operator of the Acura sustained minor injuries and was transported to the hospital for evaluation. Upon his release from the hospital, the Acura operator was taken into custody and charged with DUI, Operating with a Suspended License and Failure to Drive in Lane. He was held on $2,500.00 bond.
Pictured: Acura that struck state police SUV.