State Rep. Skulczyck Spearheads Round Table Discussion on School Safety
This article was published on: 03/10/18 1:21 AM by Mike Minarsky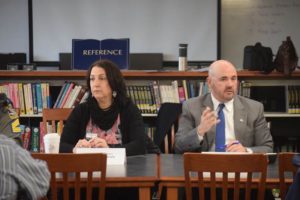 GRISWOLD – In an effort to foster ongoing discussions, State Representative Kevin Skulczyck (R-45) organized a round table discussion with area House and Senate lawmakers, municipal leaders, local and state law enforcement officers, and school superintendents to review and address the district's current school safety measures in times of crisis or emergency.
Rep. Skulczyck said the reason for organizing the forum was due in part to conversations with his wife, an educator, and high school daughter regarding school safety, and how recent education cuts made by the governor would impact the district.
The schools which currently employ a School Resource Officer spoke of the positions importance and the vital information and inner workings of the school that the SRO is able to obtain through their relationships with the students.
"Cuts to education have a domino effect," Rep. Skulczyck said. "Eliminating funding to our schools not only leads to not getting the extra computers or things of that nature that you had been planning on, but also the possibility of positional cuts to vital safety staff like school psychologists , other administrators, and SRO personnel."
"We have a problem with prioritization," Rep. Dauphinais said. "We have a governor who has cut ECS funding not only in Eastern Connecticut but across the state yet he proposes allocating $140 million dollars toward the renovation of the XL Center along with spending almost another $50 million dollars to help fund a bankrupt capital city. These cuts will directly impact many of the resources we rely on to keep our children safe."
"I'd like to continue these discussions and work toward getting many of those people who weren't included today involved," Rep. Skulczyck said. "Students have a tremendous role to play in ensuring school safety and providing them with a forum where we can hear directly from them what challenges they might face will help the rest of us see things from their perspective."
"I think that making our schools safer is an important step we must take here in Connecticut," said Sen. Somers. "At the end of the day this comes down to priorities and making it clear what our priorities should be. As a mother and a state legislator the safety of our children is at the top of my list, and these round tables are a good place to start so that we can receive feedback from the experts."
Those in attendance spoke at length about the importance of not only having a school safety plan but insuring its effectiveness by actively participating in school drills on a regular basis.
Rep. Skulczyck said that he would ultimately like all schools throughout the state to have a camera system in place that local or state law enforcement departments could tap into for necessary information via a cloud based application in the event of an emergency. In addition, Skulczyck said he would also like to take a look at how we provide a security presence in our schools.