State Police Respond to Around 250 Crashes
This article was published on: 02/1/17 2:06 PM by Mike Minarsky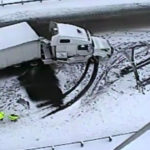 During yesterday's snowfall, slick conditions caused several crashes and road closures throughout the state on, and Connecticut State Police were called to around 250 crashes as of the afternoon. Drivers are being reminded to take it slow, and try to avoid the trouble spots, during snow showers. Also, plan for extra time on the roads.
Yesterday's Counts:
As of 4:45 p.m., state troopers were called to around 250 traffic crashes including a 30-crash on Interstate 91 in North Haven and a 20-car crash on Interstate 91 in Cromwell since 10 a.m.

Several crashes closed parts of I-84 in Southington, I-91 in Cromwell, Route 72 in Plainville, and I-95 in Stonington, but as of 3 p.m. those highways had reopened, however delays are expected.

As of 3 p.m., heavy delays were being reported on I-91 south from Hartford to Rocky Hill. I-84 east in Southington is also seeing heavy delays.