State Police Nab Narcotics Suspect
This article was published on: 02/3/16 6:32 PM by Curt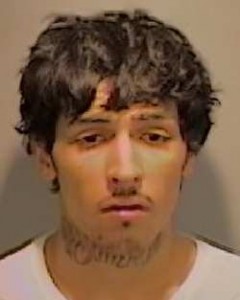 State Troopers from Troop E-Montville arrested a Willimantic man Tuesday for narcotics following a five-mile K-9 track.
The accused, Quinton Rosario (D.O.B. 12/4/1995) of 50 Cherry Lane, Willimantic, was traveling on Route 2 in Norwich at approximately 5:00 p.m. on February 2, 2016, when his vehicle became disabled. When he was approached by a person willing to offer help, the suspect fled from his vehicle.
A State Police K-9 team initiated a track of Rosario. After tracking the accused for five miles, the K-9 team located him hiding in the woodline in Franklin off Route 32.
Troopers found Rosario in possession of more than an ounce of marijuana pre-packaged for sale. He was also found to have two outstanding arrest warrants for violation of probation and interfering/resisting arrest and failure to appear in court. In addition, Willimantic Police held two arrest warrants for Rosario for various charges including assault, unlawful restraint and burglary.
Troopers investigated further and found that the vehicle the accused was driving was stolen. He was additionally charged with larceny. Rosario was held on a total combined bond of $66,500 and will be arrainged in GA 21 on Feb. 3, 2016.
Accused: Quinton Roasario, D.O.B. 12/4/199 50 Cherry Lane, Willimantic Charges: 14-215 Operating at motor vehicle with suspended/revoked license 21a-277 (b) Illegal sale of a controlled substance 21a-278 (b) Illegal sale of a controlled substance by non-drug dependent person 21a-279 (b) Possession of a controlled substance: less than 4 oz. marijuana 53a-167a Interfering with an officer