STATE POLICE HOLIDAY HIGHWAY ENFORCEMENT STATS
This article was published on: 01/4/16 3:33 PM by Mike Minarsky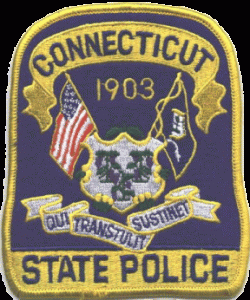 STATE POLICE HOLIDAY HIGHWAY ENFORCEMENT STATS
Middletown, CT (January 3, 2016): The following are the State Police New Year's holiday enforcement stats. This enforcement operation started on 12/31/15 at 00:01 a.m. and will run until 11:59 p.m. on 1/3/16.
These stats are from 12/31/2015 00:01 a.m. through 1/3/2016 11:59 p.m.:
Accidents:  215 with injury: 27 fatality: 1 – Rte 15 nb x68
DUI arrests: 33 Speeding: 1097 Seatbelt: 35 Hazardous Moving violations (to include following too close, distracted driving, cell phones, etc.): 2,470
    This State Police enforcement effort will continue through the New Year's holiday weekend. Troopers will continue to conduct enforcement patrols throughout the state on both highways and secondary roads.
In addition, sobriety checkpoints will be set up in an effort to deter anyone from the consumption of alcohol and driving as we celebrate the New Year.
     If anyone sees a suspected drunk driver, or dangerous driver, please call 911 and immediately report it.
2014-2015 Statistics (12/30/14-1/2/15):
Accidents: 158 with injury: 28
fatality: 0
DUI arrests: 38 Speeding:  726
Seatbelts: 22 Hazardous moving violations:    1,593