Griswold Wolverines Fight Hard, Suffer First Loss in 4 Games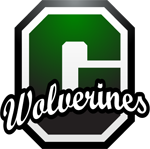 On Friday night, the Griswold Wolverines boys basketball team traveled to St. Bernards to take on the Saints. The Saints got off to a hot start and never looked back. They put up 25 points in the first quarter, including 10 points from Joseph Beltran. The Wolverines posted 12 points in the first quarter. Max Gregory had 10 of those points. The other two points for the Wolverines came from a Bryce Mileski lay-up. The second quarter began with the Saints picking up the pace. The Saints posted only 11 points as a team in the second, even though their pace of play made it tough for the Wolverines to have any consistent scoring drives. At the half, the Saints had an 11 point advantage. In the third quarter, the Wolverines started to show determination and made things interesting. Max Gregory led the Wolverines with 7 points in the third. At the end of the quarter, Pharoah Curtis had the biggest play in the game up to that point, hitting a buzzer beater to end the third. When the fourth quarter began, the Wolverines had closed the deficit to six points. Nick Gileau led the Wolverines with 8 points in the fourth quarter. At that point, the Saints lead had been erased to only 4 points. As the end of the fourth quarter approached, Saints guard Hunter Bailargeon missed two free throws, which gave the Wolverines a glimmer of hope. Bryce Mileski made the most of the opportunity for the Wolverines. Mileski made a deep three-point shot, while being covered by three Saints.  Mileski tied the game as time expired. Every player on the Wolverine bench jumped to their feet in excitement. The Wolverines forced over time after tying the game at 57 points. Unfortunately, the Wolverines got called for too many fouls and the Saints made the most of their free-throw attempts. The Saints pulled out the win 65 to 59. This is the first loss for the Wolverines since their season opener.
The next game for the Wolverines will be against Wheeler on January 16, at 7:00. The next game for the Saints will also be on the 16th, taking on the Plainfield Panthers at 7:00.