SEAT Bus Fare Increase Proposed
This article was published on: 07/4/16 12:04 AM by Curt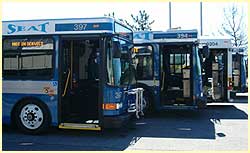 The Southeast Area Transit District, operator of SEAT buses, which serve Griswold, are seeking an increase in fares. The proposed increases could become effective as early as August. Public meetings will be held starting the week of July 5th, with the first meeting scheduled for 6 p.m. Tuesday at the Norwich City Hall. Public meetings will also be held at the Groton Senior Center and the New London City Hall. There are no meetings scheduled to be held in the Griswold area.
The proposed change would eliminate the various zone fares and replace them with a $2 base fare, elderly and disabled discount fare would be $1.
The SEAT board is expected to decide on the proposal at its July 20 meeting.