Safety of Route 12 Bridge Called Into Scrutiny
This article was published on: 07/12/16 9:12 PM by Curt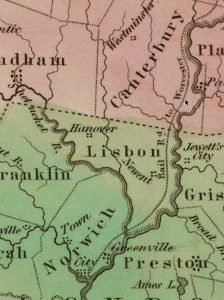 The Route 12 bridge which runs over the Shetucket River in Lisbon is one of 35 Connecticut bridges being called into scrutiny after the bridge inspector has been accused of falsifying reports in New York.
Akram Ahmad, 57, of Bridgeport, has worked on hundreds of Connecticut bridge inspections, 35 of them covering significant highway bridges, which the state Department of Transportation has now ordered to be re-inspected.
Ahmad was arrested May 18 in New York State for falsifying a safety inspection report on a bridge over a creek in the town of Wells in the Adirondack Mountains. Ahmad was charged with three felonies relating to this report filed in 2013.
Ahmad was the team leader for inspections of 35 significant bridges, including the Route 12 bridge over the Shetucket River, on and over highways such as I-84 and I-91 in Connecticut since 2014.
The state has estimated the cost of re-inspecting the bridges at $500,000, and officials will determine later who pays what between the state and DKI Engineering, a New York capitol region company, which employed Ahmad.