Rollover on Shepard Hill Rd Sends one To the Hospital
This article was published on: 12/8/17 12:11 PM by Mike Minarsky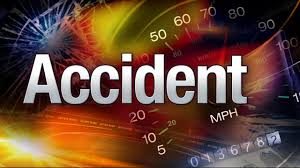 On December 7, 2017 at approximately 7:49 P.M., members of the Plainfield Police Department, Central Village Fire Department, American Legion Ambulance, and Mortlake Ambulance responded to a one car motor vehicle collision on Shepard Hill Road, in the Central Village section of Plainfield, Connecticut.
Through investigation, it was determined that a 2006 Chevrolet HHR operated by Michael Deane, (Age 36), of Norwich, was traveling southbound on Shepard Hill Road, when he failed to maintain his lane, subsequently causing the vehicle to rollover before coming to a stop in the northbound lane. As a result of the collision the vehicle caught on fire and all occupants of the vehicle self-extricated prior to police arrival.
Deane and his three passengers were later transported via American Legion Ambulance and Mortlake Ambulance to the Backus Hospital Emergency room in Plainfield to treat possible injuries.
This crash remains under investigation.