Rep. Lanoue's CRISIS, Background Check Bills Receive Public Hearings
This article was published on: 02/8/19 10:51 PM by Mike Minarsky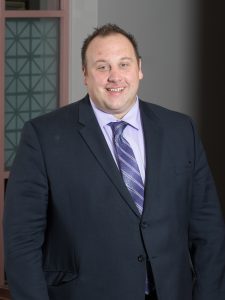 HARTFORD – Two bill proposals introduced by State Representative Brian Lanoue (R-Griswold, Lisbon Plainfield, Sterling, Voluntown) have received public hearings, both set for Thursday, February 14th, 2019.
H.B. 5165, An Act Requiring Background Checks on Overnight Camp Counselors was referred to the joint Committee on Children while H.B. 6158, An Act Expanding and Extending the Crisis Initiative Pilot Program has been referred to the joint Committee on Public Safety and Security.
"I was thrilled to learn these bills received hearings and that my constituents, and thousands across the state, will have the opportunity provide testimony," said Rep. Lanoue. "The camp counselor bill will protect children attending overnight camps from convicted felons and sex offenders who could put them in danger. While I believe government intervention in the private sector should be limited, there are certain instances where strict legislation must be in place. Shielding our children from potential predators is one of those instances."
The opioid crisis, which continues to receive statewide attention, has hit eastern Connecticut especially hard. Lanoue's bill would expand the CRISIS (Connection to Recovery through Intervention, Support, and Initiating Services) Initiative to the State Police Troop D coverage area and would extend the sunset date to January 1st, 2022. The program helps individuals battling addiction by helping them find treatment centers. The initiative, which is currently supporting efforts in Troop E, is funded by a $1.5 million grant from the federal government.
"Drug addiction and substance abuse is prevalent throughout our community and we need to take immediate action," added Rep. Lanoue. "The CRISIS Initiative Pilot Program has helped several individuals trying to overcome this disease. There are countless people in Troop D's district who could benefit from this initiative and it is our mission to make sure they have access to this invaluable resource. I'd like to thank our state police, Griswold PRIDE, Matt's Mission, and all those who have played a role in combating the opioid crisis in Connecticut."
Rep. Lanoue has scheduled a rally for Saturday, February 16th at the Griswold Youth Services in conjunction with Griswold Pride (Partnership to Reduce the Influence of Drugs for Everyone) – an organization dedicated to combating substance abuse in the community.
Individuals wishing to submit testimony or testify in person on either or both of these bills should contact the committee of cognizance. H.B. 5165 – kidtestimony@cga.ct.gov; H.B. 6158 – pstestimony@cga.ct.gov.