Rep. Lanoue Hosts Women Owned Business Forum Panelists Offer Advice to Aspiring Entrepreneurs
This article was published on: 09/26/19 3:02 PM by Mike Minarsky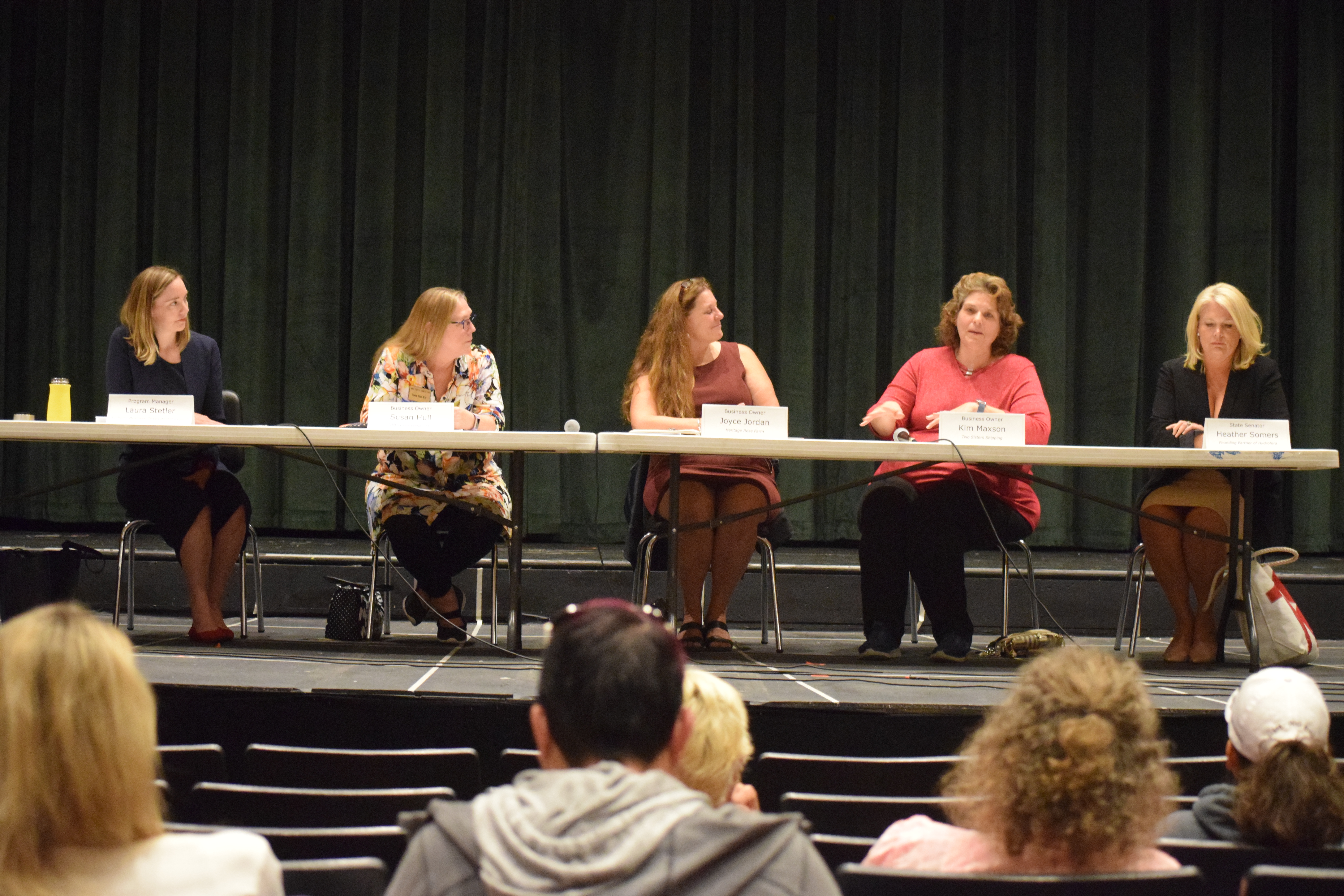 GRISWOLD – State Representative Brian Lanoue (R-Griswold, Lisbon Plainfield, Sterling, Voluntown) hosted a Women Owned Business Forum at Griswold High School on Thursday, September 19th, 2019. Joining him were panelists with expertise in different industries including medical equipment, agriculture, shipping, and tourism and travel.
Laura Stetler, Program Manager – Women's Business Development Council
State Senator Heather Somers, Founding Partner of Hydrofera
Joyce Jordan, Owner of Heritage Rose Farm
Kim Maxson, Owner of Two Sisters Shipping
Susan Hull, Owner of HMS Consulting, LLC
The panelists discussed the process of launching their companies, and navigating legal, financial and logistical issues. Attendees asked about best practices for start-ups, and complying with state and federal regulations. Laura Stetler from the Women's Business Development Council informed the audience about resources available to business owners to help them achieve long-term success.
"One of the reasons I ran for office was to help current and aspiring business owners in my community find success in the 45th District," said Rep. Lanoue. "Throughout our towns, there are several women entrepreneurs who have overcome immense hurdles to grow their companies, create good jobs and employ their neighbors, and promote our region of the state as an innovation hub. The panelists who joined us for this forum have proven that hard work, dedication and passion are the key ingredients to success. I thank them for taking the time to speak with others about this important topic and potentially inspiring others to follow their passions."
Sen. Heather Somers said, "At the State Capitol, Rep. Lanoue and I are working to pass policies which encourage entrepreneurship and make our state more business friendly. Forums like these allow us to talk with area small business owners in a casual setting. We discuss their challenges and successes, and we focus on ways in which we can help foster job growth here in eastern Connecticut. I thank the women who joined us to share their stories about the businesses they own. Rep. Lanoue and I recognize and appreciate that small businesses are the engine that drives our economy, and we want all small business owners to know that we will continue to have their backs in Hartford. We encourage anyone who has questions about starting a business to contact us. We're listening, and we're fighting for you."