Rally Being Held May 4th By Ct Liberty Party Called "May The FORCE Be With You" To Speak Against Lamont Executive Orders
This article was published on: 05/4/20 12:29 AM by Mike Minarsky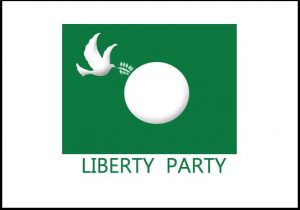 There are many organizations that are not at all happy with the decrees that Governor Lamont has made since the Pandemic has hit Connecticut. One organizations feels that these decrees are infringing on their first amendment rights.  The Connecticut Liberty Party is one of them, and they have organized many rallies throughout the state, one being held on Monday, May 4th called the "May the FORCE Be With Us Rolling Car rally.  The title of course if modeled after Star Wars Day (May the FOURTH be with you).  The organization says that the Star Wars theme is optional, but highly recommended.
The Liberty Party is NOT a new organization. The party was announced in November 1839 and first gathered in Warsaw, New York. Its first national convention took place in Arcade, New York, on April 1, 1840.  There was even a Presidential candidate from the Liberty Party in 1840 and 1844 by the name of James Birney but only garnering 2.3% of the popular vote. It's said that his running for President only may have stolen votes from Presidential hopeful  Kentucky Senator, Henry Clay, losing to James Polk in 1844.  The party hasn't had a high profile candidate since 1860 by the name of Gerrit Smith. The parties largest platform was to end slavery.
The "Rolling Rally" will start at Bushnell Park in Hartford with a meet-up to organize between 4PM and 5PM.  The rally will then convene to the Capitol Building from 5PM to 6PM and then to the Governor's residence.
In a Facebook group, the goal of the rally is to be able to have the right to go to work , open their businesses, which they feel that all of these items have been taken away due to the executive orders set forth by Gov. Lamont.  The group has many other rallies slated this year with the next one being set for May 20, 2020, at the Capitol Building.  This event, the organizers are asking you to wear a Hawaiian shirt… much like (in their words) a "Ferris Bueller-style Big Day Off.
You can follow the group online at www.CTLibertyRally.Org.