Raising Money for Needy Veterans is Truly "A Reason To Ride"
This article was published on: 06/12/17 2:33 AM by Mike Minarsky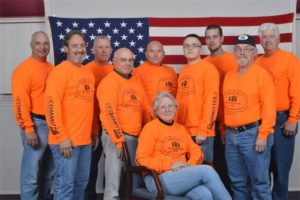 It was a great day for a bike ride!  At least it was for the over 900 riders and over 1000 people that participated in the 19th Annual Flag Day Bike Run sponsored by local organization, "A Reason To Ride" which raises money for Veterans in need.  Veterans will write in and request assistance from A Reason to Ride to help out with Rent, Mortgage, Utilities, Water, Heat, and other life needs.  In order for a Veteran to receive benefits, he or she must be honorably discharged and provide a copy of their DD214.   A Reason to Ride is a non profit organization that holds this event every 2nd Sunday in June.
The committee is made up of all volunteers and give their own time and meet monthly to review applications from Veterans that submit their request needs via their web site, Areasontoride.org.  All money raised goes to needy Vets and not one penny is taken from any member of the committee.
The ride started this year again from the Plainfield VFW, went to Route 12 and traveled through Jewett City and then back to the VFW again where there were vendors that offered food and beverage, and the band Red Light played when the bikes returned from their 50 mile run.
As far as the amount of money that was rasied, it's not known yet since everything has to be tallied up, however, the group raised in the neighborhood of $30,000 last year.  Sumner felt that this year's event was a little bigger than last.
The Route is as follows:   (Supplied by committee member Terry Sumner)
From the Plainfield VFW 2 Route 12 South in to Jewett City then East on Route 138 to the center of Voluntown. Make The Hairpin turn on Route 165 through Preston and into Norwich a troop 2. Turn right on Route 2 and then North on Route 12. Through Greenville and Taftville to Route 169 north in Lisbon. Route 169 up to the center of Canterbury and turn right on Route 14. Follow Route 14 up to Central Village and turn South on Route 12 again down in to Plainfield in Back to the VFW. Route is approximately 50 miles. To top it all off, there were no incidents and no injuries on the roadways during the event.