Principal Palonen To Show Her Love For Project Safe Grad…And Duct Tape
This article was published on: 10/19/19 4:05 AM by Mike Minarsky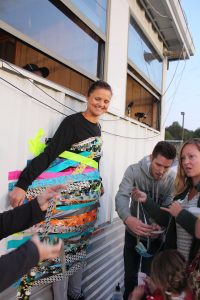 GHS Principal Erin Palonen loves her job. She loves her students. She loves to help her students raise money, even if it involves, well, duct tape!
Once again, Principal Palonen has agreed to plaster herself to the announce booth at Wolverine Stadium during the November 8th game as the Wolverines take on the Windham Whippets in an ECC matchup!
At the game, you will be able to purchase strips of colored duct tape  which can be used to secure the GHS Principal to the booth that will eventually support her entire body attaching her to the wall!!  All proceeds to go to Project Safe Grad. PSG is also looking for you to donate extra rolls of duct tape to be used that evening in which you can drop off at anytime to the office at the  high school.