Popular Jewett City Restaurant Has Front Door Smashed Overnight in Burglary
This article was published on: 09/8/20 2:41 PM by Mike Minarsky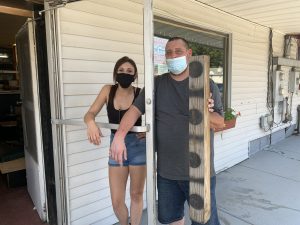 In the early hours of Tuesday morning, Surrell's Pizza and Pub on Slater Ave was burglarized. The burglars  used a large piece of wood to smash in the window of the front door on the pizza / take out side of the business, which is the left side. According to Surrell, the thieves gained got in and stole the cash register and left.  He said that they weren't even in there a minute.  "I hope they need the $150 they got in the register more than I do" said Bert Surrell.  "we've got camera footage but they have their face covered.  I hope nothing but the best for that person, I hope they needed it to pay bills or something."
Surrell's Pizza and Pub is known for their giving nature by sponsoring numerous fundraising events, including their own, Jakob's Run (named for their son) which isn't going to take place this year due to COVID-19.  Jakob's Run has been very successful for Autism Awareness raising literally thousands of dollars over the years.
The burglary will not hinder any operations at Surrells.
Sam and Derrick, 2 employees at the restaurant are shown pictured with the vandalized door and wooden ram used to break in, left by the thieves.