Plainfield's Legislative Delegation Affirms Support for Local Law Enforcement
This article was published on: 07/31/20 8:35 PM by Mike Minarsky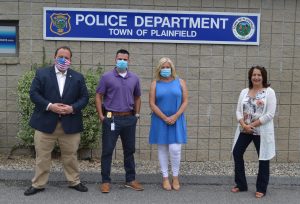 Plainfield – On Friday morning, State Representatives Anne Dauphinais (R-44th), Brian Lanoue (R-45th) and State Senator Heather Somers (R-18th), made a visit to the Plainfield Police Department. The lawmakers discussed the recently passed 'police accountability' legislation with officers and affirmed their support for the dedication and service that the department provides to the Plainfield community.
Following last Friday's House passage and Tuesday's Senate passage of HB-6004, An Act Concerning Police Accountability, law enforcement officers from across Connecticut have reached out to local legislators to voice their many concerns over this legislation. The biggest talking point of the bill is the language that aggressively changes existing qualified immunity, leaving police officers vulnerable to more personal liability. The law also does not fully reimburse local municipalities for mandates, such as the costs incurred for newly required drug testing and health evaluations. It will also force towns to purchase more expensive insurance plans to cover greater liability.
"The Police are reeling from the passage of this legislation earlier this week," Rep. Dauphinais said. "They are concerned about recruiting quality individuals going forward and are concerned about a mass exodus of existing officers. I am very concerned for both the future of our police officers and the residents of our state. Under the constant fear of litigation, these men and women will be forced to second guess their instinctual actions ultimately putting lives in danger."
"I am honored to be here to show my support, we wanted our deepest appreciation to be known to the officers of the Plainfield Police Department," Rep. Lanoue said. "The officers in our district and across Connecticut, the ones who walk that beautiful, thin, blue line protect the people of our state. Without them there is no law and order and they deserved so much better than this. I believe that by putting an end to qualified immunity, an officer will have to question every decision they make in a job where seconds are critical," Rep. Lanoue added.
"We thank and appreciate our law enforcement officers here in Plainfield and throughout eastern Connecticut," Sen. Somers said. "At the State Capitol, we should not be punishing the men and women who put their lives on the line for us every day. They are the ones who respond to domestic violence calls, the ones who come to the aid of abused children, and the ones who knock on a door to inform someone that a family member has passed away. I support common sense public safety reforms, but this new legislation, which I voted against, fails law enforcement. Our caring men and women in law enforcement are being failed by this current political system, and they are being made scapegoats for failed state policies. They deserve better, and we will keep fighting to right this wrong. We, as legislators, must work in a bipartisan manner over the next year to fix the major flaws in this bill."
After the bill passed the Senate, it went to the desk of Governor Ned Lamont and was signed into law Friday afternoon. However, the Plainfield delegation would like to revisit the police accountability discussion again in order to address the negative impacts of the bill.