Plainfield Police Officer Injured In Motor Vehicle Accident
This article was published on: 11/26/16 12:06 PM by Mike Minarsky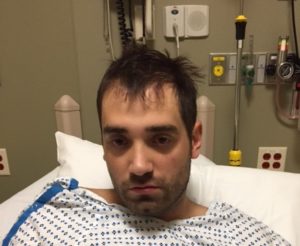 On 11/25/2016 at approximately 10:30 P.M., Officers from the Plainfield Police Department responded to a two car motor vehicle accident at the intersection of Norwich Road (Rt.12) and Railroad Avenue in Plainfield. At the time of the accident, two Plainfield Officers were located across the street from the intersection and heard the accident take place. As officers arrived on scene, they discovered that an additional Plainfield Police Officer was one of the vehicles involved in the motor vehicle accident.
It was determined that Officer Daniel Wolfburg was on patrol in his market patrol vehicle and was traveling southbound on Norwich Road approaching the intersection of Railroad Avenue. As Officer Daniel Wolfburg started to proceed through the intersection continuing south on Norwich Road, he collided with a vehicle that turned left in front of him from Railroad Ave attempting to travel north on Norwich Road. At the time of the collision, Officer Wolfburg had a blinking yellow light traveling through the intersection and the other operator had a blinking red light traveling from Railroad Ave., onto Norwich Road. The additional operator was identified as Christopher Bessette of Sterling.
Both vehicles suffered disabling damage from the accident and both Officer Wolfburg and Bessette were transported to Backus Hospital in Plainfield via ambulance to treat their injuries. Through investigation, it was determined that Bessette was Under the Influence of Alcohol and or Drugs when he was operating his 2003 Jeep Liberty and failed to grant the right of way to Officer Wolfburg's vehicle. Bessette traveled through a blinking red light at the intersection and collided with Officer wolfburg who was attempting to travel straight through the intersection with a blinking yellow light. Bessette was treated for minor injuries and was charged with Operating Under the Influence of Alcohol and or Drugs and Failing to Grant the Right of Way at an Intersection. Bessette was later released on a $ 5000 Bond and is scheduled to appear at the Danielson Superior Court on December 5, 2016.
Officer Daniel Wolfburg was later released from Backus Hospital and is expected to make a full recovery. This accident remains under investigation.