Plainfield Police K-9 Vail Very Busy Night When It Comes To Sniffing Out Drugs, Another Arrest Made
This article was published on: 01/11/20 9:46 PM by Mike Minarsky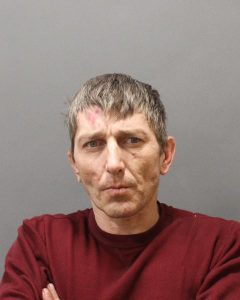 At approximately 11:29 PM members of the Plainfield Police Department conducted a motor vehicle stop on a 2004 Silver Mazda 3S on East Shepard Hill in Central Village due to the vehicle failing to maintain its proper driving lane. The operator was subsequently identified as 38 year old, Eric Terwilliger, of  Central Village. During the stop Officers became suspicious that Terwilliger was in possession of illegal drugs in his vehicle.
The Officer and his K-9 Vail, a male yellow Labrador trained in narcotics detection was used to sniff Terwilliger's vehicle where K-9 Vail alerted to the presence of narcotics. Terwilliger was subsequently requested to exit his vehicle at which point a systematic search was conducted resulting in the locating of an extensive amount crack cocaine and fentanyl, both of which were prepackaged for sale. In addition, marijuana was located and improperly stored controlled substances in pill form. A sniff of Terwilliger was also conducted where K-9 Vail alerted to the presence of narcotics. Terwilliger was found to be in possession of a small amount of crack cocaine on his person.
Eric Terwilliger was subsequently placed under arrest and charged with two counts of Possession of Narcotics, two counts of Possession With Intent to Sell Narcotics, Possession of Less ½ Ounce of Marijuana, Possession of a Controlled Substance, Failure to Keep Narcotic Drugs in Original Container, Possession of Drug Paraphernalia, and Failure to Maintain Proper Lane. Terwilliger was subsequently released on a $10,000 bond and is scheduled to appear at the State of Connecticut Superior Court in Danielson, Connecticut on January 27, 2020.