Plainfield Police Arrest Dayville Man After Traffic Stop
This article was published on: 09/20/20 10:57 AM by Mike Minarsky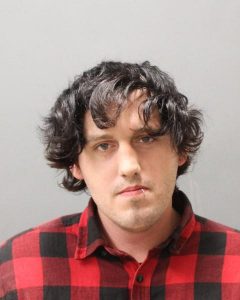 On September 19, 2020, at approximately 2:54 p.m., the Plainfield Police Department arrested 28 year old David A. Demuth Jr. of Dayville.
A member of the Plainfield Police Department conducted a motor vehicle stop on a 2004 red Ford Escape on Wauregan Road at the intersection of North Walnut Street in the Wauregan section of Plainfield, Connecticut for failure to stop at a stop sign. The operator of the vehicle was subsequently identified as Demuth Jr. Through investigation Officers became suspicious that Demuth Jr. was in possession of narcotics. A short while into the investigation, Demuth indicated that he was in possession of heroin and he voluntarily provided a black lockable bag to Officers on scene. Inside the bag, Officers located approximately $883.00 and 319 white waxy paper folds containing an off-white powder, later identified as fentanyl.
Demuth Jr. was charged with Possession of Narcotics, Possession of Narcotics with Intent to Sell, and Failure to Stop at a Stop Sign.  Demuth Jr. was released on a $10,000.00 bond and is scheduled to appear at the Danielson Superior Court, November 9, 2020 at 8:30 a.m.