Plainfield Man Arrested With Active Warrants After Altercation
This article was published on: 03/30/17 12:09 PM by Mike Minarsky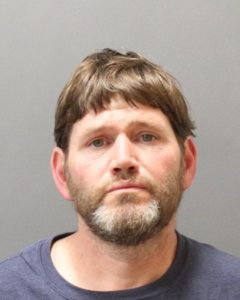 On March 29, 2017 at approximately 11:20 P.M., members of the Plainfield Police Department arrested Jasen Eldridge, 44, for Operating Under Suspension, Interfering with a Police Investigation, and charged him as a Fugitive from Justice without a Search Warrant.
While on patrol in the area of Main St., Moosup, CT a Plainfield Police Officer observed a female and a male engaged in what appeared to be an altercation in a vehicle. The female exited the vehicle on Main St., the vehicle then traveled eastbound at a high rate of speed towards North Main St., Moosup, CT. The operator who the Officer recognized as Eldridge from prior police interaction exited the vehicle in an apartment complex on North Main St. and fled on foot as the Officer approached him in his cruiser.
The Officer was able to locate Eldridge a short distance away and through investigation it was determined that he had an active extraditable warrant from the state of Rhode Island for Failure to Appear. It was confirmed that the warrant was active with extradition to CT and that Eldridge Failed to Appear on (4) four Charges, (3) three of which were felonious. It was also determined that Eldridge's operator's license was suspended. Eldridge admitted to attempting to elude the Officer due to his license being suspended and the charges out of Rhode Island.
Eldridge was subsequently placed under arrest held on a combined bond of $11,000.00 and is scheduled to be arraigned at Danielson Superior Court