Plainfield and State Police Respond to Armed Robbery in Central Village
This article was published on: 10/13/16 7:56 AM by Mike Minarsky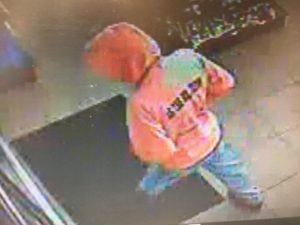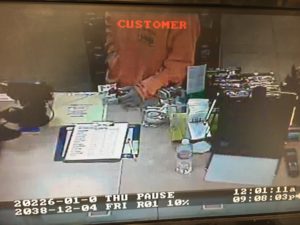 On 10/12/2016 at approximately 9:05 PM the Plainfield Police Department received a report of an armed robbery occurring at Valero gas station located at 50 East Main Street in the Central Village section of Plainfield, Connecticut.
Members of both the Plainfield Police Department and Connecticut State Police responded to the location. Upon arrival store clerks informed responding officers that prior to their arrival a male suspect brandished what was believed to be a firearm, demanding money. The suspect fled on foot in a western direction towards Interstate 395, with an undetermined amount of money.
It was determined through witnesses and surveillance footage that the male suspect was Caucasian, with light colored hair, approximately 5' 9", thin stature, described to be between eighteen to low twenties in age. The suspect was seen wearing blue denim jeans, an orange hooded sweatshirt with black writing on both the front and back, and dark sneakers. Below are some of the images obtained from the scene
The Plainfield Police Department is asking the public's help in locating these suspects. The Plainfield Police Department can be reached at 860-564-0804 or on the anonymous tip line at 860-564-7065.