Plainfield and Colchester Police Team Up to Nab Burglary Suspect
This article was published on: 11/10/19 6:46 PM by Mike Minarsky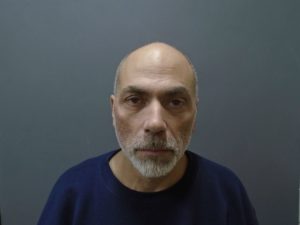 On 10/30/19 at approximately 7:00 AM the Plainfield Police Department responded to Minor's Auto located at 695 Norwich Road for the report of a burglary.  Upon officers arrival it was learned that entry was gained into the building via an unsecured window and that the cash register was broken into.  Officers located a receipt inside the building from the early morning hours from Walmart.  With the assistance of the Plainfield Police Department Criminal Investigative Unit, patrol members were able to identify two suspects.
On 11/10/19 at approximately 8:20 AM the Colchester Police Department took into custody 54 year old Keith Laubenheimer of Colchester on the charges of, 3rd degree Burglary, 4th degree Larceny, 3rd degree Criminal Mischief, and Possession of Burglary Tools.  Laubenheimer was held on a court set $50,000 bond and will be arraigned at the Danielson Superior Court on 11/12/19.  
At this time the case remains active and more arrests are forthcoming.