Overnight Wauregan Structure Fire Proves Deadly
This article was published on: 12/31/19 1:00 PM by Mike Minarsky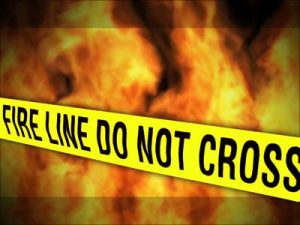 On December 31, 2019 at approximately 3:24 A.M., the Plainfield Police Department received a radio transmission from the Quinebaug Valley Communication Center reporting a possible structure fire at 5 Charlotte Drive in the Wauregan section of Plainfield.
At the time of arrival Members of Atwood Hose Fire Department and American Legion Ambulance were already on scene. The fire had been extinguished but the house was filled with heavy smoke. There were two occupants of the residence at the time of the incident, a white male 51 years of age who reported that his white female 75 years of age was on the floor and unconscious and unresponsive. Medical personal attempted to revive the female victim with negative results. She was later pronounced dead at the scene. The Medical Examiner's Office was contacted, a Medical Examiner Investigator responded to the scene, and an autopsy will be conducted.
The male party was evaluated at the scene for several burns which he refused to be transported.
The Plainfield Fire Marshall's Office responded to the scene and later requested the State Police Fire Investigation and Explosion Unit to assist investigators in determining the cause of the fire.
At this time this case is still open and under investigation. Anyone with information related to this investigation is asked to contact the Plainfield Police Department at (860)564-0804