Old Saybrook Man Arrested For Death Threats Against Police Officers
This article was published on: 08/27/20 2:06 PM by Mike Minarsky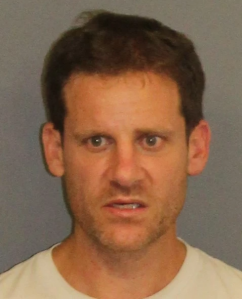 41 year old Christopher O'Neal had that conversation with the UPS driver on Tuesday morning telling him that he was going to shoot them. According to the driver, O'Neal seemed disgruntled during the conversation. After the interaction with O'Neal, the driver went to the Old Saybrook Police Department to report on what O'Neal had told them. The case was assigned to the Central District Major Crime Squad. A detective met with the driver and interviewed him regarding the conversation.
The driver told the detective in an affidavit that he was very familiar with O'Neal, and that he had delivered to them many times over his career with UPS. O'Neal struck up a conversation with the driver when his dog came out. O'Neal then told the driver that the dog was very ill with diabetes. He then stated that there were only 2 things in this world he cared about and they were his dog and his motorcycle.
The conversation took a dark turn when O'Neal spoke of "taking out 2 Old Saybrook Police Officers" which he planned on doing after his dog dies, which would be fairly soon. O'Neal mentioned that he wanted to obtain a .22 caliber rifle with a scope. He went on to say that he was tired of being harassed by the officers by getting chased around town while on his motorcycle. The officers were named by O'Neal and are both are active members of the Old Saybrook Police Department.
The driver stated now that he had made this complaint, it put him in an awkward and dangerous position because he knew that he would continue to deliver to the O'Neal residence since O'Neal's mother operates a dog grooming business inside the home.
The driver also met with both Old Saybrook officers that had threats against them from O'Neal. It was understood between all parties that O'Neal's threats were credible and due to an extensive criminal history and display of violent behavior against the police that he was capable of carrying out the actions.
O'Neal has been arrested on multiple occasions for driving under the influence and violation of probation. He has numerous items pending in superior court from March of 2020 including Interfering with an officer, harassment, assault on an elderly person, among others.
O'Neal was arrested and charged with 2nd degree threatening and held on a $50,000 cash bond.