Old Lyme Man Arrested After Jewett City Woman Pulled Over By State Police
This article was published on: 05/13/20 11:59 AM by Mike Minarsky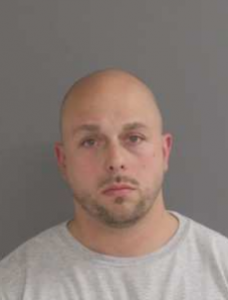 On May 12th at 7:07 PM, Troopers conducted a traffic stop and investigation following motor vehicle violations. During the course of the investigation Troopers attempted to identify the passenger/Accused, 38 year old Jesse B Brochu of Old Lyme. Brochu repeatedly provided Troopers with false information in an attempt to avoid being identified. Brochu was instructed to exit the vehicle, and while doing so began to reach into his waist band. The Accused was immediately detained at this point. While doing so Troopers detected the odor of marijuana. K9 Elsa was requested to the scene and a search revealed a large amount of narcotics concealed in Brochu's pants. He was taken into custody and at this point, and at that point Brochu revealed his real identity and that he had an active Violation of Parole arrest warrant. The Accused was held on $40,000.00 cash\surety bond. However his combined bond was $115,000 due to his previous violation arrest warrant. Brochu was in possession of 7 grams of heroin, 23 grams of cocaine, 14 grams of crack cocaine, 3 grams of marijuana Naloxone, Oxycodone, and Adderall tablets.
Brochu was transported to a correctional facility until he was arraigned in Norwich Superior Court on Wednesday, May 13, 2020.
The traffic stop was initiated and the driver, a 29 year old Jewett City woman whose name was not released, was found to be operating her car with a suspended license. She was issued a summons and released on scene.