Norwich Postal Worker Report Assists Norwich Police With Burglary Suspect
This article was published on: 06/29/17 5:04 PM by Mike Minarsky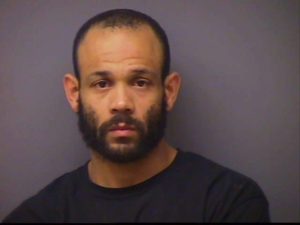 On Wednesday June 28th just after 12 noon a US Postal Worker observed a male acting suspiciously while walking around the exterior of a residence on Washington St. The suspicious male was carrying a television and the postal worker immediately knew that the suspect did not belong in or near the residence. He contacted Officer Mathew Goddu who was on a traffic post in the immediate area. Officer Goddu notified dispatch who in turn sent multiple NPD units to the area.
Officer Stephanie Reichard and Officer Chase Chiangi went to the address and observed the front door of the residence to be open. Upon clearing the residence officers observed an area where a TV was missing. While the above officers were clearing the residence Officer Goddu observed the suspect walking away from the scene. Officer Chiangi located the accused 32 year old Dwayne Sutton of Norwich, on Lafayette St.  Located on Sutton was jewelry which was reportedly stolen from the interior of the Washington St residence. Sutton was placed under arrest and transported to Norwich PoliceDepartment Headquarters where he is being charged 3rd degree burglary and 5th degree larceny
Sutton was issued a court date of July 6th, 2017 at Norwich Superior Court, Norwich, CT.
The Norwich Police Department wishes to thank the U.S. Postal workers who on a daily basis monitor and report suspicious activity within the neighborhoods that they work in.
Source: Sergeant First Class John Perry, NPD