No Injuries During Lake Rd Canoe Accident, Just Really Wet
This article was published on: 05/4/20 4:29 PM by Mike Minarsky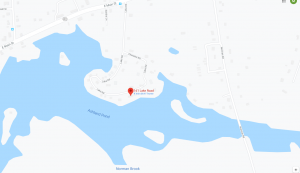 At approximately 3:15 on May 4, 2020, two young girls, said to be between 14-16 years of age as stated by an eye witness took a canoe out on Ashland Lake in the area of 161 Lake Rd off of Route 201.
The young girls fell out of the canoe, and it's not sure if the canoe was tipped or not. A resident of the area saw it happen and immediately took his boat out to rescue the girls.
According to Jewett City Fire Chief Lou Demicco III, by the time the Fire Department arrived on scene, "The girls were already in the boat coming back to shore, and we got there pretty quick."
Although Ambulance was on scene, there were no transports and no injuries were sustained in the accident as reported at this time.
There was some confusion as to the sirens sounding as well as an additional ambulance in the area. There was a call for medical service on Mohegan Dr at the same time as the boating accident.
No one was identified in either incident.