NFA Wins The 2020 ECC Cheerleading Champions
This article was published on: 02/24/20 2:49 AM by Mike Minarsky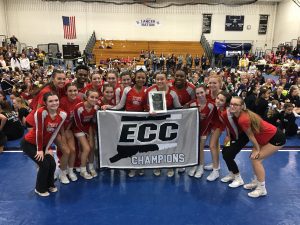 This past Saturday, February 22,  Waterford High School was the host location for this years ECC Cheer Championships.  14 cheer teams from Eastern Connecticut.  Putnam didn't field a team this year, however, 2 students were still recognized for their achievements.  The field is broken up into 3 divisions, I (5 teams), II (5 teams), and III (4 teams). Each team went out to the floor for 2 1/2 minutes to showcase tumbling, stunts, and jumps, as well as dance….and don't forget CHEER! That's not all, awards for Winter/Fall Sportsmanship
Division I consisted of East Lyme, Norwich Free Academy, Woodstock Academy, Fitch, and New London.
Division II consisted of Ledyard, Killingly, Stonington, Bacon Academy, and Waterford.
Division III consisted of Griswold, Montville, Plainfield, Wheeler, and Putnam (no team)
Here are the results:
Div I – Norwich Free Academy (164 pts), East Lyme (159.4), Fitch (142.95)
Div II – Waterford (163), Killingly (162.9), Bacon Academy (103.1)
Div III – Montville (131.85), Griswold (117.8), Plainfield (115.95)
Grand Champion – NFA
---
Below are individual awards given to the Cheer athletes.