Troop D Troopers Get 2 For 1 in Fugitive Arrest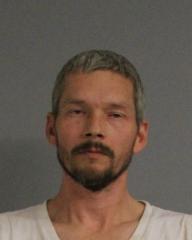 On Tuesday, 09/17/2019 at approximately 7:10 pm, Troop D QLTF Troopers went to 41 Rachel Drive in the town of Thompson to attempt to locate 37 year old Eric Starr. Starr held an active arrest warrant for Violation of Probation stemming from a burglary charge in 2013. Upon arrival, Troopers located Starr and subsequently placed him under arrest.
While placing Starr under arrest, his friend began making fun of the Trooper's cruiser. Troopers turned their attention to his friend and identified him as 26 year old Jacob Hughes. Troopers conducted a warrant check of Hughes and discovered that he held an active arrest warrant by the Plainfield Police Department for Domestic Violence related charges.  Hughes has been no stranger to Plainfield Police with numerous arrests dating back to 2014.   Hughes and Starr were transported back to Troop D. Hughes was turned over to the Plainfield Police Department for processing. Starr was processed at Troop D and held on a $25,000.00 cash bond and will be in Danielson Superior Court on Wednesday, 09/18/2019.