Plainfield Verizon Wireless Store Burglarized During Early Morning Hours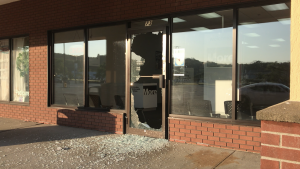 At approximately 5:30 AM on Friday, August 9, 2019, there was a break in at the Verizon Wireless Authorized Retailer location on Lathrop Rd in the Big Y Plaza, Plainfield.  The suspect who is said to have driven off in a black SUV and heading on i-395 south, shattered the glass on the front door.  No word on what was taken, if anything from the location.
Phone alarms were audible through the plaza when SNSN News arrived on scene.  Display devices are armed with an alarm system that will sound when there is an attempt to remove a device.