Former Resident Trooper Adam Chittick Honored at Borough Meeting on Monday Evening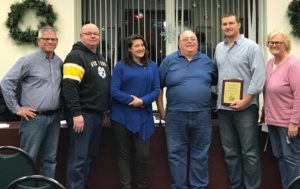 The Borough if Jewett City recognized outgoing Resident Trooper Adam Chittick at their regular meeting last night. Warden Alan Geer presented Trooper Chittick with an appreciation plaque, recognizing his seven years of dedicated service to the Borough and its residents.  The Borough Warden and Burgess's wished Trooper Chittick the best of luck in his future endeavors.
TFC Chittick will be missed due to his activities that went over and above being a resident trooper such as his work with Griswold Pride and the Dare program.  Chittick was re-assigned to Troop D Danielson.