Department of Consumer Protection Addresses Magazine "Invoices"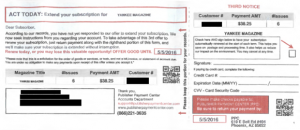 Thursday, May 12th 2016 – The Department of Consumer Protection has received multiple complaints from consumers receiving mailers that look like invoices from Publisher Payment Center.  These mailers encourage consumers to extend their magazine subscriptions.  In reality, these mailers are not invoices, but are solicitations for new business.  The mailer looks like an invoice: it names a magazine that the consumer may already receive; it encourages the consumer to "act today," and even assigns a customer number.  The mailer also lists a payment deadline in multiple places.
If consumers have paid Publisher Payment Center as a result of this mailer, please contact the Department of Consumer Protection at 860-713-6300, or Toll-Free in CT at 800-249-2649. You may also email dcp.frauds@ct.gov.