Convicted Felon Arrested For Carrying a Semi Automatic Pistol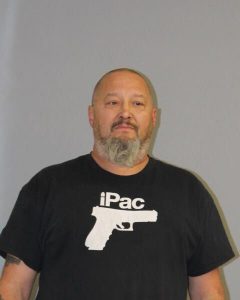 On 09/27/2018 at approximately 5:30 pm, Troop D Troopers stopped a motorcycle on Route 6 in Brooklyn for reckless operation and failure to have insurance. The operator, 52 year old Eric Reissman,  is a convicted felon and can not possess firearms. When the Trooper asked for Reissman's license and registration, he opened up a saddlebag on the motorcycle which exposed a .45 caliber semi-automatic pistol.Troopers were able to safely place Reissman under arrest and transport him to Troop D where he was processed and charged with criminal possession of a firearm, illegal possession of a firearm in a motor vehicle, reckless operation and operating a Motor Vehicle without insurance. Reissman was placed on a $15,000 cash/surety bond and is scheduled to appear in Danielson court on 09/28/2018.
Reissman has a prior conviction for assault stemming back from 2011 as well as a misdemeanor charge for writing a back check.